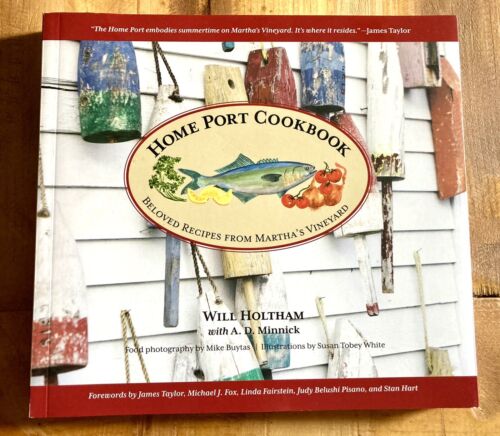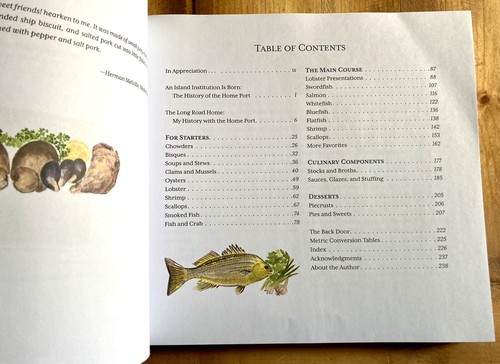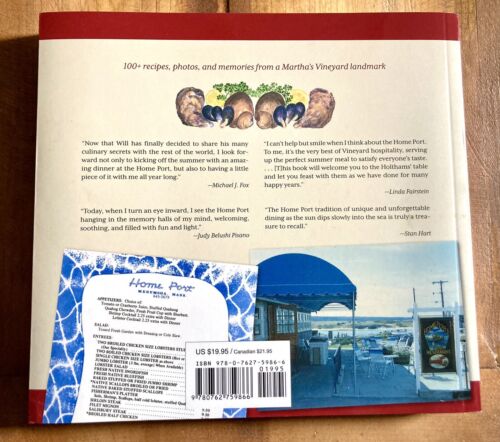 Home Port Cookbook: Beloved Recipes from Martha's Vineyard by Will Holtham Book
100+ recipes, photos, and memories from a Martha's Vineyard landmark "The Home Port embodies summertime on Martha's Vineyard. It's where it resides." –James Taylor "Today, when I turn an eye inward, I see the Home Port hanging in the memory halls of my mind, welcoming, soothing, and filled with fun and light." –Judy Belushi Pisano "Now that Will has finally decided to share his many culinary secrets with the rest of the world, I not only look forward to kicking off the summer with an amazing dinner at the Home Port, but having a little piece of it with me all year long." –Michael J. Fox "I can't help but smile when I think about the Home Port. To me, it's the very best of Vineyard hospitality, serving up the perfect summer meal to satisfy everyone's taste. You'll have to provide your own sunset and the briny ocean scent that whets my appetite every time I head to Menemsha, but this book will welcome you to the Holthams' table and let you feast with them as we have done for many happy years." –Linda Fairstein ** A Martha's Vineyard institution since 1931, the Home Port is the place to go locally for traditional New England-style, fresh-off-the-boat seafood. In this book, former chef/owner Will Holtham shares stories and culinary secrets from his forty years at the helm. Among the more than 100 recipes are featured menu items such as the award-winning Quahog Chowder, Broiled Swordfish, Baked-Stuffed Lobster, and Key Lime Pie, along with seafood cooking techniques and tips on buying and preparing fish. Full-color food photos are complemented by restaurant ephemera from Will's private collection as well as charming watercolor illustrations by artist Susan Tobey White. Will Holtham has been a chef and restaurateur for more than forty years. He also owned the Square Rigger restaurant and legendary Bite Clam Shack, both on Martha's Vineyard. He divides his time between Maine and South Carolina.
Globe Pequot Press, T.H.E.
Home Port Cookbook : Beloved Recipes from Martha's Vineyard
Specific Ingredients / Seafood, General, Regional & Ethnic / American / New England
Additional Product Features
The Home Port embodies summertime on Martha's Vineyard. It's where it resides." –James Taylor   Today, when I turn an eye inward, I see the Home Port hanging in the memory halls of my mind, welcoming, soothing, and filled with fun and light. I remember the kindness of strangers and a friend indeed. And I see the perfection in its name: Home Port. It was a safe haven, a place where something special flourished, a family." –Judy Belushi Pisano   I have nothing but wonderful memories of the many summers I have spent on the Island. The people and places have become a patchwork of many fond memories with one constant—kicking the summer off with a feast at the Home Port. So now that Will has finally decided to share his many culinary secrets with the rest of the world, I not only look forward to kicking off the summer with an amazing dinner at the Home Port, but having a little piece of it with me all year long." –Michael J. Fox     I can't help but smile when I think about the Home Port. To me, it's the very best of Vineyard hospitality, serving up the perfect summer meal to satisfy everyone's taste. You'll have to provide your own sunset and the briny ocean scent that whets my appetite every time I head to Menemsha, but this book will welcome you to the Holthams' table and let you feast with them as we have done for many happy years." –Linda Fairstein, "The Home Port embodies summertime on Martha's Vineyard. It's where it resides."–James Taylor "Today, when I turn an eye inward, I see the Home Port hanging in the memory halls of my mind, welcoming, soothing, and filled with fun and light. I remember the kindness of strangers and a friend indeed. And I see the perfection in its name: Home Port. It was a safe haven, a place where something special flourished, a family."–Judy Belushi Pisano "I have nothing but wonderful memories of the many summers I have spent on the Island. The people and places have become a patchwork of many fond memories with one constant–kicking the summer off with a feast at the Home Port. So now that Will has finally decided to share his many culinary secrets with the rest of the world, I not only look forward to kicking off the summer with an amazing dinner at the Home Port, but having a little piece of it with me all year long."–Michael J. Fox "I can't help but smile when I think about the Home Port. To me, it's the very best of Vineyard hospitality, serving up the perfect summer meal to satisfy everyone's taste. You'll have to provide your own sunset and the briny ocean scent that whets my appetite every time I head to Menemsha, but this book will welcome you to the Holthams' table and let you feast with them as we have done for many happy years." –Linda Fairstein, "The Home Port embodies summertime on Martha's Vineyard. It's where it resides." –James Taylor "Today, when I turn an eye inward, I see the Home Port hanging in the memory halls of my mind, welcoming, soothing, and filled with fun and light. I remember the kindness of strangers and a friend indeed. And I see the perfection in its name: Home Port. It was a safe haven, a place where something special flourished, a family." –Judy Belushi Pisano "I have nothing but wonderful memories of the many summers I have spent on the Island. The people and places have become a patchwork of many fond memories with one constant–kicking the summer off with a feast at the Home Port. So now that Will has finally decided to share his many culinary secrets with the rest of the world, I not only look forward to kicking off the summer with an amazing dinner at the Home Port, but having a little piece of it with me all year long." –Michael J. Fox "I can't help but smile when I think about the Home Port. To me, it's the very best of Vineyard hospitality, serving up the perfect summer meal to satisfy everyone's taste. You'll have to provide your own sunset and the briny ocean scent that whets my appetite every time I head to Menemsha, but this book will welcome you to the Holthams' table and let you feast with them as we have done for many happy years." –Linda Fairstein
Price : 9.95

Ends on : N/A

View on eBay
Tags:
cookbook
,
cooking
,
recipes